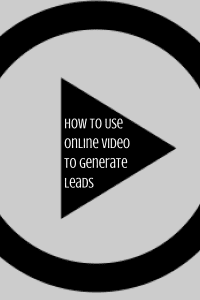 If you've been wondering how to generate leads using video, you're in luck. I had the pleasure of learning from David Siteman Garland @TheRiseToTheTop} during Social Media Success Summit. In his session, "How to Use Online Video to Generate Leads", David shared 3 strategies you can use right away to build your email list using video, and I'm going to share them with you.
1. Tweak Your Description
Tweak your YouTube description so that it includes a link to your opt-in page instead of your homepage. Be very specific with your call-to-action. If you send someone to the homepage of your website, they may not take the time to join your mailing list. However, since they took the time to click the link and head to your site, sending them directly to your mailing list opt-in page helps guide them to exactly where they want to be and where you want them to be. Also, give them a reason to click the link, show them the benefit of joining your mailing list. You can even give them something for free.
2. Capture Leads
Use video on your own site to capture leads. What? Absolutely! Yes, David gave us his affiliate link for a neat little tool called LeadPlayer. You can find it via his link at therisetothetop.com/leadplayer. What does it do? It pumps up your YouTube videos so you can can capture leads right from the video on your site. It's easy, too. You put the YouTube video on your site, and then you have the option to add in opt-in boxes and video calls to action and clickable links into your YouTube videos – right on your site. It's a plug-in for WordPress, and it works with most auto-responders. For example, at the end of your videos you could include a call to action like, "Check out my free video series," and when it's on your website, your YouTube video will actually contain a clickable link or even a place where they can just enter their email address. Now you'll be collecting leads from your YouTube videos, on your site. Does it get any better than that?
3. Add Your Videos to Facebook
Don't let YouTube or Vimeo, etc. be the only social network your videos live. Add your videos to Facebook. That's right Facebook!  You should have a video on Facebook for all your opt-in offers. Think: Free Webinars, video series, ebooks, etc. Your goal is to drive your Facebook traffic to your opt-in page. Your videos can be super short,
a few minutes at most, where you say "Hey guys. Here's what I've got, check it out. This is what it's going to do for you. Click to enter your email." Be sure that you don't say things like "click below" or "click on the right" because Facebook is constantly changing. Just let folks know to click to enter their email and you're done!  * Bonus tip* videos uploaded to Facebook directly are going to get preferential treatment.
Additional tips to be of value to your viewers while using video:
Keep your strategy simple – main objective: get viewers & visitors into your funnel. Get them onto your mailing list.
Worry more about the purpose of the video, than the length of it.
Most people have it wrong and focus on YouTube Views. In reality it's all about leads.
"Free" never goes out of style – it's the most compelling thing – get it in your YouTube videos to build leads.
Regularly come up with new freebies to keep things fresh. Offer a new freebie per quarter.
Use Facebook video to drive leads. It is a great opportunity to get people from Facebook to a landing page.
Use a YouTube trailer as a lead generation opportunity – introduction, what the channels about and promote lead magnet.
Recommended WordPress Plugin: Capture leads directly with LeadPlayer
Hope you'll find these tips useful. Be sure to check David out over at TheRiseToTheTop.com and if you've enjoyed my recap, be sure to subscribe to DayngrZone Media.