Dear Bloggers,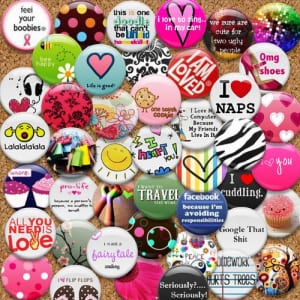 Let's talk. I love you, really, I do. But there are some things that I think we need to discuss. Actually, I discuss and you implement. That's where "Dear Bloggers" comes in. "Dear Bloggers" is a tongue-in-cheek series helping you become a better blogger via blogging tips and suggestions.
Buttons, Badges and Banners, Oh My!
What's up with the 950 buttons, banners and badges? We're here to read your posts, not admire your flair. You really don't need 37 pieces of flair. Clean and simple design works best. Everything else is distracting and stressful. Don't you want your blog to be our happy place? Seriously, less is more.
Create Pages
Ok, you're upset about that last one. I know you love your flair and you just can't part with it. Let's compromise. How about moving it to its own page? This way you can keep your flair and we can stop popping Valium like candy and lighting scented candles right before we visit your blog.
CTRL + ALT + DEL
Hey, guess what? If everyone's comments that your blog locks up their browser, your blog locks up their browser! Figure out what went wrong and fix it or people won't keep coming back. No one wants to have to reboot every time they visit your site.
Zzzzzzzzzzzzzzzzzzzzzzz
Wow! Your blog takes forever to load. That's a problem. We only have so many hours in a work day to goof off, and if your blog is eating into that time, we're going to have to break up with it.
Alrighty then, you work on those. That's all we have to say for this edition of Dear Bloggers. Happy Blogging!